---
Orbital's SQL Decryptor is a high quality, professional Microsoft SQL Server object decryption tool that works with SQL Server 2005 and later. We created the original SQL Server Object Decryptor way back in 2003. And now, with the release of Version 5, we've completely re-written it from the ground up, with a slick interface and jam-packed with a ton of new features.
This powerful object decryptor can decrypt all of SQL Server's encrypted object types:
Stored Procedures
Numbered Procedures
User Defined Functions (scalar, inline, multi-statement table-valued)
Views
View Triggers
Table Triggers
Logon Triggers
Database Triggers
Server Triggers
Encrypted objects that have been re-named
It's the preferred SQL Server decryption tool of database administrators and consultants world-wide.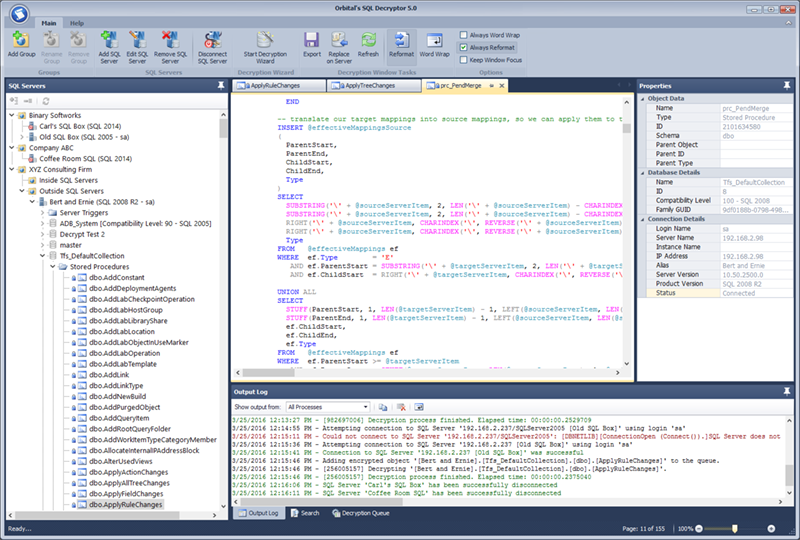 Some of the new features include:
Nested server groups allow you to structure your collection of SQL Servers however you choose.


With server aliases you can identify your SQL Servers in a way that makes sense to you and your organizations.


We'll save your grouping and SQL Server structure when you close the program so everything is right where you left it when you load it back up.


Our software allows you to have more than one SQL Server with the same IP Address. Disconnect one and connect another, anytime.


Simply drag any of the encrypted objects or folders to decrypt or invoke the Decryption Wizard.


You can run our decryptor on tablets and other devices that utilize touchscreens and have higher resolutions.


Companies sometimes obfuscate encrypted code so if it does get decrypted it's almost impossible to read. We strip out all unreadable characters.


Some encrypted objects are hard to read when decrypted. Our software can reformat them for easier viewing.